eShop Warehouse and Fulfillment Services is a leading provider of e-commerce fulfillment solutions for domestic and international customers. We specialize in providing comprehensive services, including efficient storage, pick-pack-ship operations, and seamless integration with various e-commerce platforms. By partnering with us, businesses can concentrate on their core strengths while we take care of their fulfillment needs.
At Eshop Warehouse and Fulfillment Services, we provide complete and comprehensive e-commerce fulfillment solutions. Our range of services includes secure warehousing, precise order picking, efficient packing, and prompt shipping. With our expertise, we manage every aspect of the process, offering reliable product storage, accurate order fulfillment, and a seamless customer experience. Trust us to handle your inventory and deliver exceptional service to your customers.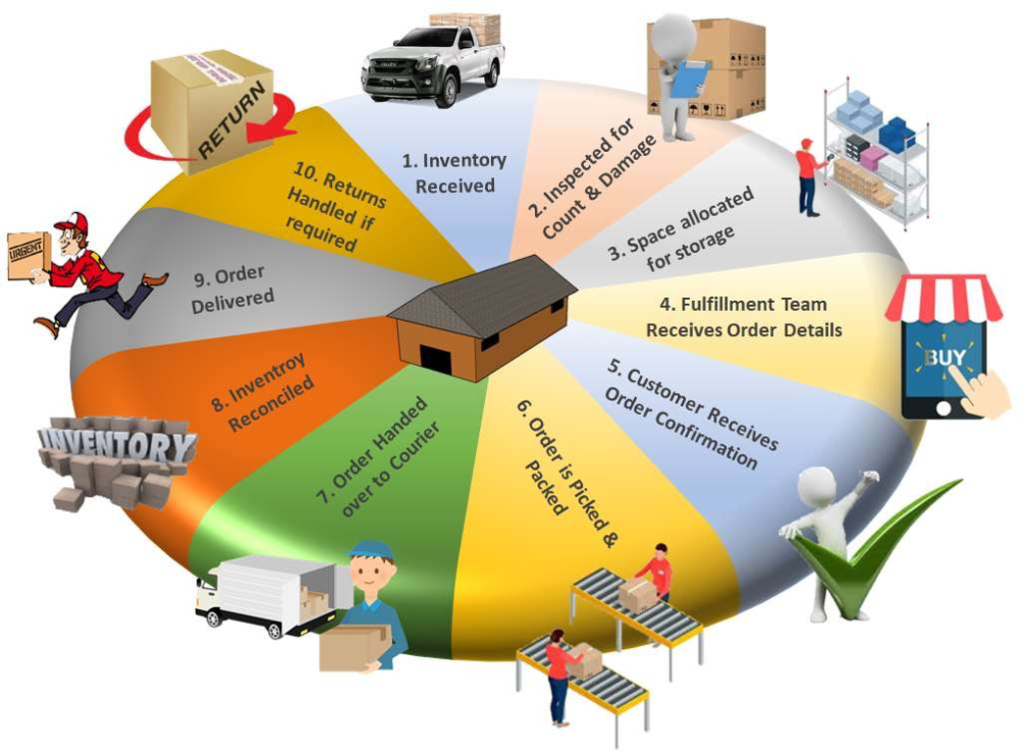 Efficient storage facilities.
Precise and careful picking, packing, and shipping operations.
Seamless integration with various e-commerce platforms.
When you join forces with us, your business can reclaim valuable time and resources. Our team of experts will take care of your fulfillment needs with professionalism, allowing you to focus on what you do best.
Whether you're an established business or a startup, your focus should be on building better products or services, developing new ideas, marketing, strengthening customer relationships, and implementing future growth strategies. eShop Warehouse and Fulfillment is not just a service provider; we are your outsourcing partner. By partnering with us, you can free your business to concentrate on long-term success while enjoying the competitive advantage that comes with hiring supply chain management professionals. This partnership grants you access to our specialized resources, skills, capabilities, technologies, and business networks.
Pay What You Get: No long-term commitments or minimum volume requirements. We charge you based on the exact space occupied and goods picked, packed, and shipped.

Inventory Control: Every stored item is properly logged in our system, so you know where it is and how much you have, even when it's not in your possession.

Real-time Shipping Confirmation Notification: Stay updated with real-time alerts and notifications regarding your fulfillment needs.

Seamless Integration: Our technology integrates with your online store, automatically receiving orders for accurate picking, packing, and shipping.

Packaging Options: We offer a range of packaging options, including mailing bags and boxes, tailored to the size of your products and orders. You can also use your own packaging materials.
When it comes to customer delivery orders, we prioritize handling returns with the same level of importance. Our main focus lies in ensuring an accurate pick and pack process. Our trained staff is dedicated to minimizing returns caused by damages through careful packaging. Return handling is carried out in accordance with supplier guidelines. Returned goods are either stored for future use or returned to the supplier, as required.​
Over the years, eShop Warehouse and Fulfillment have earned the trust of its customers through efficient and accurate deliveries facilitated by multiple courier companies. While eShop Warehouse and Fulfillment primarily utilizes "Call Courier" delivery services for smart deliveries, our services are not limited to a single courier partner. eShop Warehouse and Fulfillment is fully capable of facilitating order delivery through selected API-enabled Courier/Postal partners according to customer requirements. We store inventory in our fulfillment warehouse, pick and pack orders as they are received, and promptly hand them over to your preferred courier network.
For the best possible prices and to meet your E-Shop's Warehouse and Fulfillment service requirements, fill out the form below or call us now
at +92-304-6116-116....
All communication, including Facebook orders, website orders, WhatsApp orders, and on-call orders, are handled through our state-of-the-art exclusive call center (operating for 12 hours a day).
We offer a chatbox facility on our website and WhatsApp groups with live agents (available for 12 hours a day).
We provide order management and end-to-end tracking (both online and through phone support).
Booking and dispatch services are included.
We maintain close coordination with the courier team to ensure timely delivery.
We offer stock management and reconciliation services.
If specified in the agreement, we can provide daily cash reconciliation services.
Cash/sales reconciliation is conducted at the end of each month.
We offer customized packaging, outbound services, and last-mile deliveries.
Our services include inventory and operations management, encompassing complete inbound and outbound operations, as well as logistics services.
We handle stock receiving, item-wise barcoding, and quality check services.
We utilize a Warehouse Management System (WMS).
Looking forward to a strong and prosperous business relationship!
Please fill out the form below and we will contact you within 24 hours with your query or Call / WhatsApp at +92-304-611-6116...